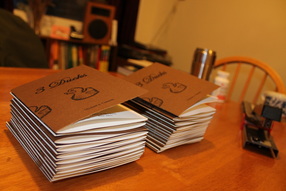 Project Tangiblog is my newest project to date. The idea is based on my love of tangibility. I love the look and the feel of books and chapbooks. I have an incredibly difficult time reading poetry on the computer, or on any other screen for that matter. It's also based on my love of receiving packages in the mail.
Basically, if you sign up with Project Tangiblog you will receive something from Puddles of Sky Press in your mailbox, every month. What to expect? Mini-Chapbooks, Post Cards, Broadside Publications, New Releases, and anything else we're producing.
To sign up, check out the
"Broadsides & Other Stuff
" section of the website. A 6 month subscription is only $12, with all shipping included.
It's for people who like poetry, artwork, receiving mail that isn't a bill, and above all, tangibility. Check it out. And feel free to Contact Us if you have any questions.
- Michael