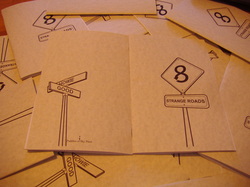 Two weeks ago I thought I was being overly ambitious, hoping to have two new chapbooks ready for this weekends
Indie Literary Market
happening in Toronto. It was a bunch of work and my hands are aching from all the cutting/folding/stapling, but I'm pleased to say that Strange Roads by Howie Good, and Cemantics by myself are now ready to launch.
If you're in Toronto come and check out our table at the
Tranzac Club
292 Brunswick Ave., Toronto, Ontario M5S 2M7
If you're interested in ordering either, or both chapbooks check out the Chapbooks page.