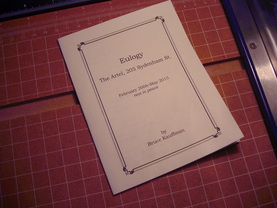 Puddles of Sky Press is proud to have published this single-poem chapbook by Kingston poet, Bruce Kauffman.

Look for it around town. Sent out free with any other Puddles of Sky Press order.

4 pages. Saddle-Stitched Binding.

The Artel is a live-in artist-run gallery, venue and collective committed to fostering artistic growth by providing emerging artists with a supportive and stimulating environment. Since 2009 The Artel has been a home to Poetry @ The Artel, an open mic reading which has run on a continuous monthly basis. In January 2015 The Artel was given notice that their lease would not be renewed, and are to be out of the location at 205 Sydenham St. by April 30th. Though The Artel hopes to find a new location, this space will be sorely missed to all who have felt the magic of poetry, stories, music and community that have filled its walls.