Chapbooks

Orders are processed through paypal and will ship as quickly as possible, usually 1 or 2 days for us to get the package in the mail, after that it's up to Canada Post. If you don't have a paypal account, or simply want another option for ordering, you can always
contact us
.
---
99 cents
By Allison Chisholm
$4.50
2 by 2
4 pages
Machine Binding

99 cents is a mysterious and darkly funny micro-poem by Allison Chisholm. What it lacks in length it makes up for in the many ways it can be read.

Allison Chisholm lives and writes in Kingston, Ontario. Her poetry has appeared in The Northern Testicle Review, the Puddles of Sky chap-poem The Dollhouse, The Week Shall Inherit The Verse, and the Proper Tales Press chapbook On the Count of One. She played glockenspiel in the Hawaiian-dream-pop band SCUB. Her photography has been exhibited in the Tiniest Gallery. Her first full-length collection, On the Count of None will be published by Anvil Press in autumn of 2018.

---
---
DuD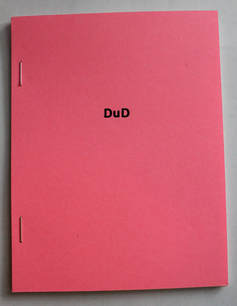 By Michael e. Casteels
$4.00
4.25 by 5.5
7 pages
Stapled Binding

DuD is a series of five visual variations on a three-letter poem, composed with dry-transfer lettering.

---
---
Wet Cement
By Michael e. Casteels
$12.00
5.5 by 4.25 hand-stamped envelope containing:
3 hand-stamped envelopes: 2.5 by 4.25
1 instruction page/Canvas: 5.5 by 8.5, folded

Wet Cement is a series of concrete poems that have yet to set. Each copy contains 3 unique poems, punched from paper samples from the Strathmore Paper Company. The poems themselves are separated into three categories.

A. is a text-based poem. In some cases, a visual haiku. In other cases, a one-word poem.

B. is a poem based on texture. In some cased the texture might be color, in other cases, the shapes of the letters. Sometimes the texture is a combination of the two.

C. is a minimalist visual poem.

Part chapbook, part poetry-object, Wet Cement is a collection for anyone interested in composing/re-composing their own visual poems.

---
snowfall

By Michael e. Casteels
$10.00
4.25 by 4.25
1 card (and colophon) in printed envelope

A minimalist poem-object. Envelope and poem hand-struck on a Hermes 3000 typewriter. Colophon hand-stamped and included in envelope. Published in an edition of 20 numbered copies.

---
EARTHQUACKS & Other One-Word Poems

By Michael e. Casteels
$4.50
4.5 by 3 Envelope
10 Cards


An entirely hand-stamped publication of 11 one-word poems, each printed on an individual card. What kind of images can be created with the use of a single word? Can a one-word poem create movement? How many ways can you read a one-word poem? How deep into each word can you venture? These are some of the questions Michael e. Casteels attempts to answer with this series of poems. A truly tactile experience.

---
ocean in a cell


By Guy Ewing
$9.00
3.5 by 3
20 pages
Hand-Sewn Binding

ocean in a cell is a collection of minimalist, two-line poems. Read through the changing seasons, the shifting the light & shadow, and the intermingling of nature and city life. Rubber-stamped chapbook in a limited run of 80 copies.

---
Lagoon. Still Lagoon.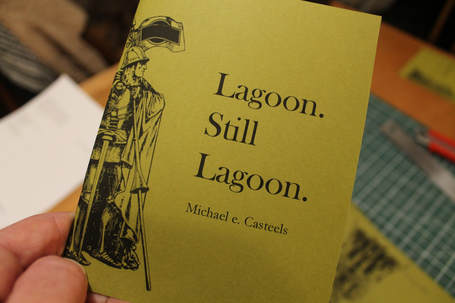 By Michael e. Casteels
$5.00
4.25 by 5.5
24 pages
Saddle-Stitched Binding
A mix of surreal prose and lyric poems, featuring the bizarre and the everyday.
My Departure from Gallantry
The day began with a stone hefted through the lake's window. There was no piecing back my reflection. I was lagoon. Again and again I was lagoon. Nothing would change the simple fact that nothing would the simple fact. It was very simple: everything had changed, and I was still lagoon.
Review by rob mclennan
---
---
The Vispo Bible: The Book of Esther





By Amanda Earl
$4.00
4.25 by 5.5
16 Pages
Saddle-Stitched Binding

Each piece in this little collection represents one chapter from the Book of Esther, Old Testament. The text is taken from the King James Version, and then altered, manipulated, and poetisized into these lovely little visual poems.

---
Lazing West No. 1




By Michael e. Casteels
$10.00
8 pages, card-stock covers, full color
hand-sewn binding

Lazing West No. 1 is a collection of comic-poems borrowing from Golden Age comics that are now in the public domain. The source material 'Blazing West' was originally published by American Comics Group in 1948-1951. These comics have been broken apart and re-assembled frame by frame. Rather than focusing on narrative or character or plot, these comics focus on shape, color, texture, repetition. This process has created these surreal-western-visual poetry-comics.

---
illiterature. issue 7. a journal of found poetry.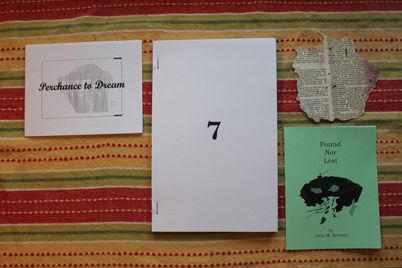 edited by Michael e. Casteels
$12.00
46 pages
Two glued-in envelopes. One contains a mini 8-page chapbook in full color. The other includes a unique found poem in the form of a dictionary page fragment.

Includes Found Nor Lost a supplemental chapbook by John M. Bennett, loosely tucked into the issue. It's meant to get lost and be found again.

issue 7 of illiterature. investigates the possibilities of found poems. Inside you'll find facebook mis-translations, collage, black-out poems, oddball Wikipedia articles, erasure poems, screen shots from kids television shows, overheard conversations, and a whole lot more.



Featuring poems discovered by:

Cameron Anstee
Sacha Archer
Nelson Ball
Gary Barwin
Michael e. Casteels
jwcurry
JM Francheteau
David Fujino
LeRoy Gorman
Wharton Hood
R. Keith
Lorette C. Luzajic
Bob MacKenzie
Lori Propheter
Sandra Ridley
Elisha Rubacha
Fraser Sutherland
andrew topel


---
---
Tusk-a-Loose'a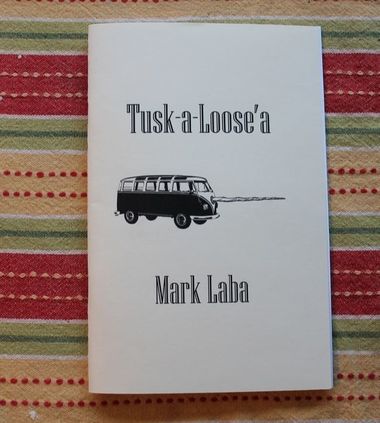 By Mark Laba
$5.00
4.25 by 8.5
24 pages
saddle-stitched binding

A long poem in 18 parts. Each poem is a sentence that stretches like a scenic highway, taking you along for the ride.

8

Lately I've thought about the narwhal tusk
As a navigation device for my mini-van
A way to breeze along through the bi-ways and highways
Of a nation I just invented that I call well I forget
What I called it
But you can bet your bottom dollar
It was one hell'uva nation
Before it sank into the ocean
Which wasn't my fault
As I was at the orthodontist
And my second-in-command
Was crushed under an avalanche
Of packing peanuts.

---
---
Yesterday is on the Way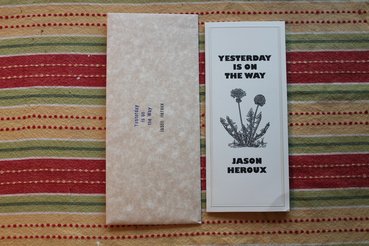 By Jason Heroux
$4.00
Tri-fold pamphlet in hand-stamped envelope.

Three poems by the everyday surrealist, Jason Heroux. Themes include: uncertainty (I thought clouds/ were white maps/ in heaven's glove-box), following rules (Our wild leader/said you have to play/ if you want to be a kid), and flip-flopping (I walked down to the lake/ there was no lake/ I became the lake).

---
---
rained, and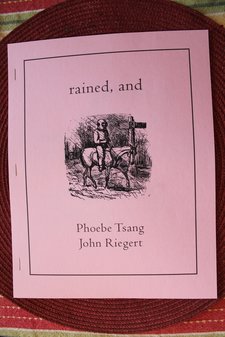 By Phoebe Tsang and John Riegert
$4.00
8 pages
8.5 by 11
stapled binding

Newspaper articles turned into black-out poemsnd turned into visual poem drawings.
4 pieces from an ongoing collaboration between poet Phoebe Tsang and artist John Riegert.

---
---
framework






By andrew topel
$7.00
40 pages
4.25 by 5.5
saddle-stitched binding

In this collection of visual poetry by andrew topel we are introduced to pieces centering around the use of a frame. A frame appears in each piece, but the poems themselves never feel constrained. While it's true a few of poems exist within the boundaries of the frame, most pieces break through the four walls leaving the reader's mind to think outside of the box.

---
Dishwashing Event Part Two: Ontario

By Sacha Archer
$5.00
20 pages
5.5 by 8.5
Hand-Sewn Binding

The poems, included in Dishwashing Event, Part Two: Ontario, Canada, are the linguistic offshoot of daily dishwashing. A speech recognition program translated and transformed the noise of dishwashing into words recorded by the speech recognition program into a document in Microsoft Word. Each poem records one day's bout of washing. When the scrubbing and rinsing had finished and the dishware was found clean and stacked in the dishrack, a poem had accumulated, had accrued. And an event had ended.

Concrete poetry featured on the cover and throughout the book by Jess Rowlands

---
illiterature. issue six. a journal of one-word poems.
Edited by Michael e. Casteels
$12.00
54 pages
5.5 by 8.5
Stapled Binding
Shipping in Canada $2, Shipping to U.S.A $3, Shipping overseas $5

a journal of one-word poems
featuring work from:

Cameron Anstee
Sacha Archer
Jennifer Baker
Gary Barwin
Sidney Bending
Barbara Caruso
Ron Chase
Amanda Earl
David Fujino
Scott Keeney
LeRoy Gorman
Jason Heroux
Mark Laliberte
Robin McLachlen
Pearl Pirie
Dale Tracy
Margaret Rutley
Eric Schmaltz
Carl Watts


---
illiterature. issue v. the graphic novel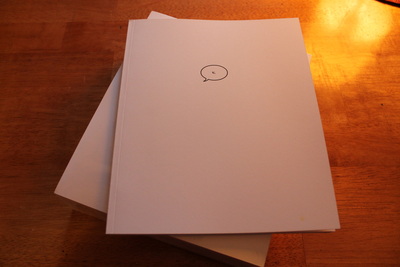 Edited by Michael e. Casteels
$12.00
76 pages
7 by 8.5
Perfect Bound
Shipping: In Canada $2; Shipping to the U.S $4; Overseas Shipping $8

illiterature. issue v. is a graphic novel of collaboration. Part visual poetry, part comic book, the work of fifteen contributors is meshed together into a seamless, abstract narrative.

Featuring:

Nelson Ball, Gary Barwin, derek beaulieu, Amanda Earl, Claudio Ghirardo, Faye Harnest, Gene Kannenberg, Jr., Mark Laba, Mark Laliberte, Chris Piuma, sven staelens, Lin Tarczynski, andrew topel, Dale Tracy, & Nico Vassilakis.




---
---
The Hopeful Barnacle New & Selected Poems 2005-2015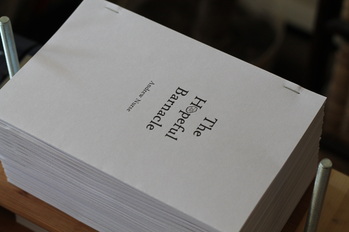 By Andrew Nurse
$10.00
44 pages
5.5 by 8.5
Stapled Binding


A culmination from the last 10 years of travel, performing, social vortexes, making music, sitting on a bench, and hiding from the world.





Monuments

the places of my youth walk through me like busy ghosts
discard the memories like photos burning to dust

"there is signal fire
through the fog"
hope my eyes
this is just another ship
sinking

i wake up in a circle of my own footprints
no tide, no
soggy space
just a mind pecking
out of its skull
how do you like your eggs?

---
---
check engine. rhinoceros. tungsten.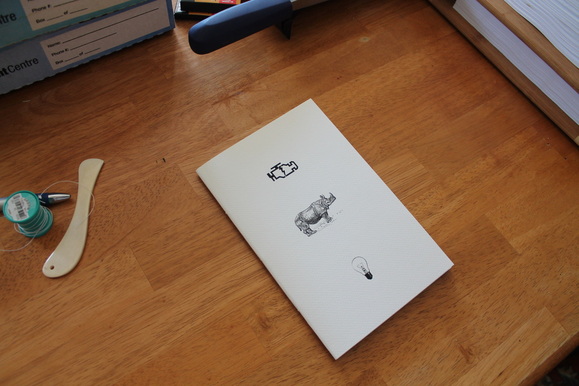 By Michael e. Casteels
$5.00
32 pages
5.5 by 8.5
Hand-Sewn Binding

Check Engine Sonnet

The irises arrive, serene and swallowing
the orchard, the sultan seated beneath harvest.
Pupils dilate and ripen in this hinterland, this
salubrious work-in-progress. A pheasant
integrates from treetop to treetop; the curtains
part and there she is, oh trembling heart,
oh hyperventilation! If I were a horse I'd
equilibrate, if a rhinoceros I'd radiate
tungsten. But I am only a salvaged typewriter
draped in seaweed; my bell no longer dings.
She is one dozen donuts. To blink would obliterate.
To drown in the ordnance of her synaesthesia,
I'd punctuate this moment with a phalanx of ampersands,
I'd lasso that golden sphere you sometimes see in the sky.


---
---
Hallelujah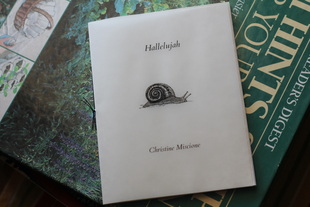 By Christine Miscione
$5.00
12 pages
4.25 by 5.5
Hand-Sewn Binding

A single short story by Christine Miscione.

---
---
Two Chapters Toward an Epic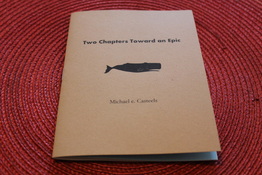 By Michael e. Casteels
$2.00
8 pages
4.25 by 5.5
Saddle Stitched Binding

Two prose poems from a work in progress.


---
---
illiterature. issue iv.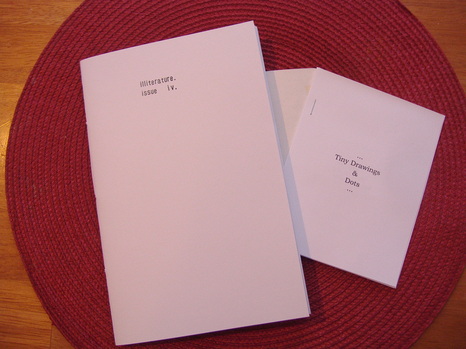 illiterature. issue iv.
edited by Michael e. Casteels
$10.00
36 Pages, plus 12 page mini-chapbook
4.5 by 5.5
hand-stamped cover
hand-sewn binding

Features poetry by:
Cameron Anstee
Sarah Burgoyne
Jaime Forsythe
Phil Hall
Marshall Hryciuk
Chris Michaud
Gustave Morin
Stephen Nelson
Brent Raycroft
Stuart Ross
Robert Swereda
---
---
The Magistrate's Glass Figures & Other Tales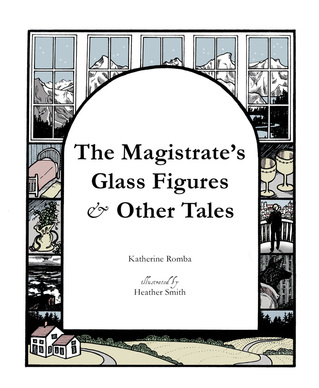 By Katherine Romba
Illustrated by Heather Smith
$10.00
20 Pages
7 by 8.5
hand-sewn binding

This chapbook collects seven short stories from Kingston writer Katherine Romba. Each story reads like a fairy tale, or a fable. A town is haunted when dead relatives return from the sea. A city is thrown into turmoil when glass figures are broken. An inn is visited by a wolf. There are many wonderful, frightening, and magical moments in these stories. Beautifully illustrated by Heather Smith, The Magistrate's Glass Figures & Other Tales is a perfect book for anyone who has an affinity for fairy tales.

---
---
Chicken Scratch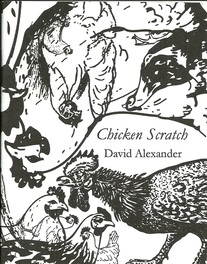 By David Alexander
$5.00
24 pages
4.25 by 5.5
saddle-stitched/glued into cover

A chapbook of chicken poems. Poems that translate other poems in the book. Poems in which language takes flight. Poems in which language rattles the bars of its cage. Funny poems. Serious poems. Poems that will make you question. This chapbook has it all.


---
---
aftermaths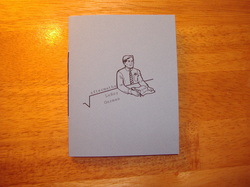 By LeRoy Gorman
$5.00
20 pages
4.25 by 5.5
hand-sewn binding

Part minimalist, part visual, and part mathematical equation.
---
---
Nice Haircut, Fiddlehead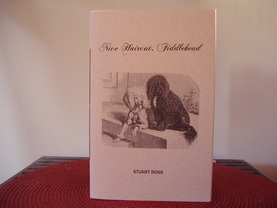 By Stuart Ross

$5.00
20 pages
5.5 by 8.5
hand-sewn binding


A real surprise bag of a chapbook. Inside you'll find a sonnet, a prose poem, a list poem, a poem with a single word for each line, an elegy, a lament, a translation of a translation, and a whack of other wonderful poems.
a review by rob mclennan
Find Stuart at: http://bloggamooga.blogspot.ca/
---
---
---
illiterature. issue three.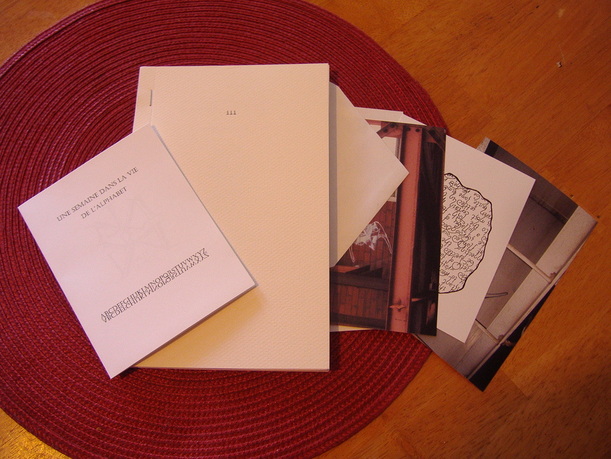 A Journal of Minimalist Poetry
Edited by Michael e. Casteels
$10.00 + shipping ($2 in Canada, $3 to U.S, $4 for international orders)
49 pages
5.5 by 8.5 inches
stapled binding

This issue features minimalist poetry by:

Nelson Ball
Gary Barwin
derek beaulieu
Judith Copithorne
jwcurry
Amanda Earl
Jesse Patrick Ferguson
David Fujino
Geof Huth
anatol knotek
Nicholas Papaxanthos
Aram Saroyan
Gerry Shikatani
Sandra Stephenson
George Swede
Mark Truscott


---
---
Strange Roads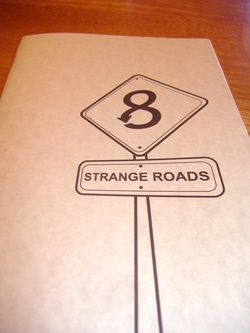 By Howie Good
$5.00
28 Pages
5.5 by 8.5 inches; saddle stitched

a book of prose poems where humorous & haunting images meet within the same sentence. Sorrow meets laughter meets confusion but somehow all makes perfect sense. Here's a brief taste:

Desecrations

I wonder how that can be. The recipe calls for a pinch of sorrow, the clouds beyond the rain-smeared kitchen window like the gloomy thoughts of stranded whales. I try to remember the last time honesty was the best policy. The autobiography of a lipstick-stained cigarette filter I consult is no help. So many people stumble out of their mothers with drought-stricken faces, all crooked lines and lumpy shadows, that I don't know where to look first. Someone suggests the waiting area, slumped on a molded plastic chair.

_
---
---
Cemantics, minimalist, found & concrete poems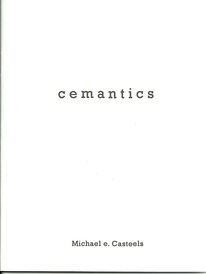 By Michael e. Casteels
$5.00
18 pages
5.5 by 4.25 inches; saddle stitched

This chapbook features poetry that has been cut down to its bare minimum. Short poems that refer to rain, pigeons, clocktowers and bike riding. Two pages fold out to reveal larger visual pieces.


---
---
illiterature. issue two.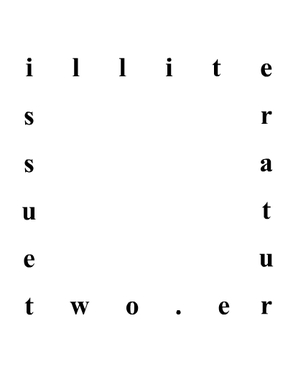 ---
---
---
illiterature. issue 1.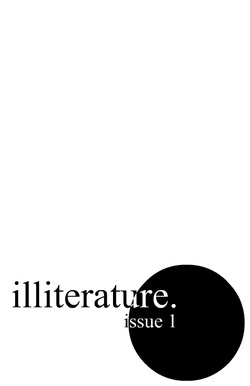 $5
32 pages
5.5 by 8.5 saddle-stitched
card stock cover

illiterature. issue 1. features poetry by Conor Barnes, Bruce Kauffman, Derek Beaulieu, Sarah Tsiang, Andrew Nurse, along with an interview with & poetry by Jason Heroux.

edited by Michael e. Casteels

---
---
The Robot Dreams-- Limited Stock!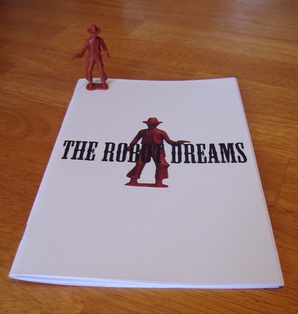 By Michael e. Casteels
$25.00 - Only one copy left!
28 pages
5.5 by 8.5 Inches
Saddle Stitched Binding

A series of prose poems that read like fables or parables, that float out of the ordinary and into the surreal. Here's a brief taste:

The Aftermath
We're backed up against a brick wall. The General, still seated on his white horse, demands the one responsible. My comrades remain silent, but their eyes shift in my direction. My breath hastens, I perspire. I notice a lemon, wobbling beside me. I point at the lemon and shout, "that pock-marked fiend instigated the riots!" The crowd erupts. They hurl stones at the lemon, scream profanities. A sickly young boy breaks through the rabble, and they cease. He falls to his knees, and holds the lemon in his trembling hands; pulp drips from his fingers. "Papa!" he cries, "Oh Papa, what have they done?" A gazelle glares at me from the gazebo. Fifty-two playing cards, scattered by wind.



---
---
In Defence of the Attacked Center Pawn-- Limited Stock!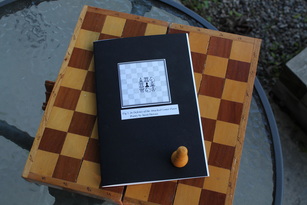 By Jason Heroux
$25.00-- Only one left!
28 Pages
5.5 by 8.5 inches; hand sewn binding
These 'pawn-sized' poems are filled with post-war restaurants, cobwebs and hospitals, garbage bags and lemonade stands. Come hop on the bus. With Jason Heroux at the driver's seat, it's bound to be a scenic ride.
You can listen to Jason reading from this chapbook on Finding a Voice on CFRC 101.9fm. Many thanks to Bruce Kauffman for the interview and for hosting the reading.
---
---
Cave Paintings of the 21st Century-- Limited Stock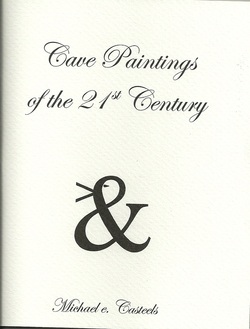 $25.00 -- Only 1 left!
48 pages
5.5 by 4.25 inches; hand-sewn binding
card stock cover
This book combines the various characters of punctuation to create 23 different animals of varying complexity & simplicity. Everything from bumble bees to elephants are featured. Check out
Puddles of Sky Press on Facebook
to see a few of the species.
---
---
sorrow is to row --OUT OF STOCK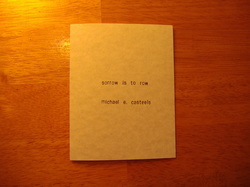 By Michael e. Casteels
$20.00
4.25 by 5.5
A single typewritten poem with hand-stamped covers. After bpNichol.
see more photos HERE
---
---
In This Light-- SOLD OUT

By Guy Ewing
$10.00
28 pages
7 by 8.5
Saddle-Stitched Binding-

Minimalist poetry bridging the themes of nature and city life.

untitled (for Billy Mavreas) -- OUT OF STOCK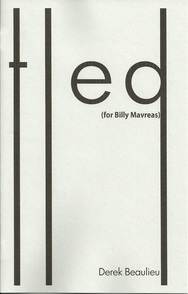 By derek beaulieu
$5
20 pages
5.5 by 8.5 inches, saddle-stitched binding

A series of eight visual poems by one of the Canada's best-known visual poets.


---
---
Post Script, a book of afterthoughts OUT OF STOCK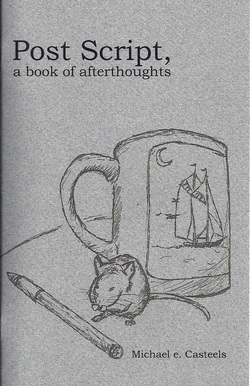 By Michael e. Casteels
Poetry & Artwork
$20.00
5.5 by 8.5 saddle-stitched

While anchored in the everyday, these poems strive to peel back the layers of reality to show what is really going beneath the surface. The borders between the commonplace and the surreal are blurred and what comes to the surface are the sometimes haunting, sometime humorous images of the world that surrounds us, but we usually fail to notice.

The Dancer

Late into the night she glides
across the black floor.
The mirror, a window to an empty street.
A yellow leaf stirred by the breeze.

High above, in the great
silence of autumn,
a constellation scrolls across the sky.
One of the stars, snuffed out years ago.



Poem for Kingston

Welcome to this quiet afternoon
the frozen lake
a single leaf clinging, the shuffle of boots
the slow falling snow.

The bell tower tolls
it's four o'clock.
In the park the statues groan
and shift their weight to the opposite foot.


---
---
Greetings, Human. Hello, Traveler. -- OUT OF STOCK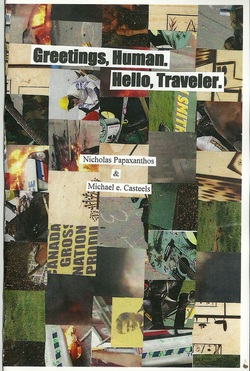 Collaborative Poetry By Nicholas Papaxanthos & Michael e. Casteels

$5.00
8 pages
5.5 by 8.5 saddle-stitched

Cut up Poems, Collage, Collaborative Centos and List Poems.
---
---
The Rain Wet Concrete haiku-induced poetry-- OUT OF STOCK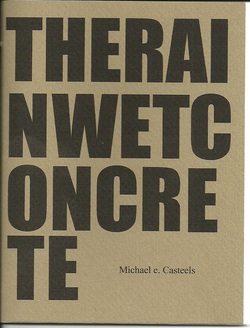 By Michael e. Casteels
Traditional and Non-Traditional haiku, haiku-inspired concrete and visual poetry.
$15








---
---
Run on sentence, run on!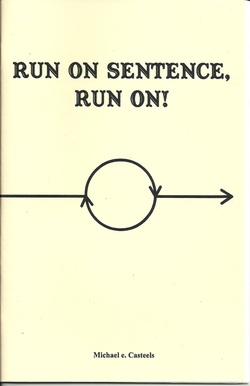 Out of Stock


By Michael e. Casteels
48 pages
$5



life with a dog

I am the one who stops
to smell the flowers

my dog is the one who stops
to smell other dogs pee

on the flowers
I am smelling





every evening

the windows
are the sun
setting behind them

the sky,
a vial of dark ink
spilling onto a tablecloth

a man kneels
at a park bench
his hands busy

an empty bag,
a needle,
a lighter and a spoon

the statue
looks and listens
his lips are sealed

every evening
the lamppost
has a brilliant idea





---
THIS IS A TEST!