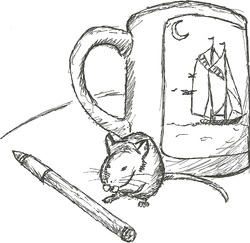 I promised everyone a preview of some art work from my newest Chapbook "Post Script, a book of afterthoughts" The picture to the left is part of the cover. There are about 4 or 5 drawings spaced throughout the publication, most have a surreal tint to them, some illustrate the images found in a few of the poems.

The Chapbook is coming along according to schedule. I'm waiting on a card stock order to come in, and then I can pretty much go to print!

Happy Weekend Everyone!