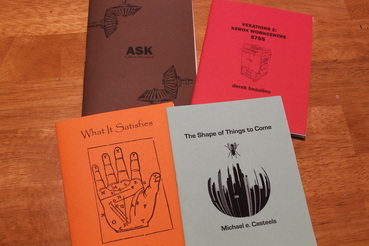 I admit, I've been pretty lax with my posting here on Puddles of Sky.com, but I've still been plugging away at the monthly Chapoem project for 2016. For each month of the year I'm publishing a chapbook that contains a single poem. I've just finished stapling the 10th publication: ASK by Lillian Necakov.
To make up for my lack of posting I'm offering some deals.
Chapoem bundle: 4 recent titles for $5
&
Until the end of the year, for every $5 you spend you'll receive a free chapoem. See the
CHAPOEM
page for a list of titles. When you make your order, just type in the titles you'd like for free in the "Notes to Seller" section. Or leave it blank and we'll send along some random titles for you.
More projects are currently underway! Keep watching this space for more details!