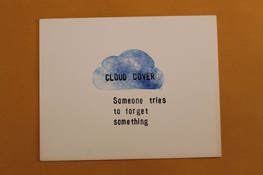 Last night I finished stamping 51 copies of a new poem by Ottawa poet
Conyer Clayton
.
This was fun little project to work on. I've wanted to publish a series of postcard poems for a while, but haven't had the right poem to kick start the project.
Cloud Cover
is a lovely poem with a lot to think about. I like the word 'tries', and all that it implies. I especially like the idea of a postcard that seems to encourage forgetfulness, since they're usually a means of remembering a specific time/place/event.
This was the first project in which I carved my own stamp, so I decided to start with a pretty basic cloud shape. The challenge was getting the inking consistent, and not too heavy, so the title could show through the blue. There are a few variants in this project, which should be expected when rubber-stamping. Overall, I'm really pleased with how this postcard turned out, and I'm looking forward to working on Puddles of Sky Postcard #2.
Cloud Cover can be ordered
HERE.