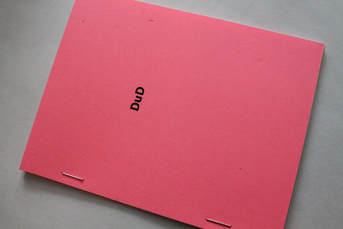 Sometimes the idea for a chapbook takes weeks or months to gestate. Some ideas spend years in the formative stage. Sometimes, however, the idea strikes, and the chapbook is executed in the span of a few days. This was the case for my most recent publication:
DuD
.
For the past few years I've been slowly working on a short, but involved, manuscript of
dry-transfer
visual poems, inspired by the work of
derek beaulieu
and
bpNichol
, among others. The process of this work is exciting, but can also be laborious and monotonous, which is why this project has taken so long. Recently, I've been engrossed in this manuscript, spending a few hours a night rubbing letters onto a page.
DuD occurred quite suddenly. I'd begun a piece for my manuscript, and it came out as an unexpected three-word poem, which was unlike any of the other poems I'd created. Looking through my limited selection of alphabets and fonts I was immediately struck with an idea for a brief series of poems playing with this word. Within a half-hour the poems for DuD were complete.
For the creation of the physical chapbook, I wanted something just as quick and playful as the poems themselves. I've had this stack of neon-pink card stock for a while, and it seemed like the perfect opportunity to use it. I also wanted to create something less-elegant than my other projects, so no saddle-stitching or sewn bindings on this piece, just two staples punched in. I liked the minimalist design, but felt obliged to include some publishing information, which is rubber-stamped inside the back cover, tucked closely to the spine.
I'm quite happy with this little book. It's fun to see how one project can spark another, and how quickly that spark can become something physical.
You can find out more, and order DuD on our
Chapbooks Page
.